A School Uniform for Themba

Candice Behrens
Our programmes exist to foster hope and health as well as pride and respect amongst a community that has been deeply affected by the AIDS pandemic. This programme covers an expansive rural community hit hard by the economic realities of the area of the Eastern Cape – providing support for many children who live in situations of drastic neglect and abuse through a number of essential and often life-changing services.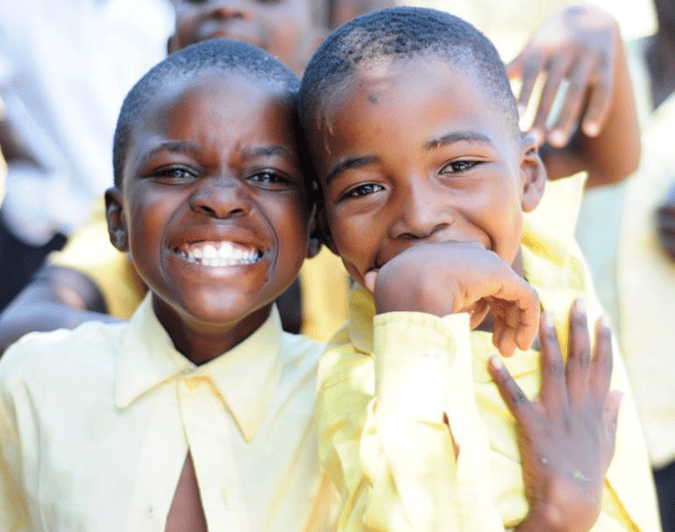 A School Uniform for Chwayita
This is the story of a child in one of the communities we serve, who received a uniform from Starfish.
"My name is Themba. I grew up with my grandmother as my mother gave birth to me when she was 14 years old. As my mother grew up she got married to somebody else that is my stepfather. Then I had to go and stay with my mother and my stepdad who was working in Johannesburg in the mine. My stepdad who was a breadwinner in the family got sick and died. My mother had to work as a domestic worker and she earned R300.00 ($15) per month. We are a family of three from my mother's side. My mother got pregnant and had a child and got a social grant for the child and that also contributed was helpful in feeding us. Then my mother got sick it was discovered that she was HIV positive. She tried going back to work but health prevented her. She couldn't work anymore. I thought of not going to school as my mother was very sick but I knew that was not a good thing to do as she always motivated me to go to school. Eventually, I decided to go to school. Every day I was confronted by my teachers about school uniforms. But Starfish came to my rescue and again it was revealed to me that there is light at the end of the tunnel. I want to say to Starfish thank you very much."
Helping more children to have a brighter future
Starfish provides nutrition, protection, material support, education, healthcare, and psychological and social counseling for children in need.
This community organisation has seen growth and development over the last decade. As the number of vulnerable children is highlighted and more people come forward for treatment, more resources are made available for the support of these children. With the dedication, strength, and growing expertise of this team, the future for this area of the Eastern Cape is positive.
Medical and holistic support to fight the impact of HIV/AIDS
Local medical officers were overwhelmed by HIV/AIDS reaching a crisis point.
Therefore the programme is medically focused – concentrating on the treatment of opportunistic infections, stabilising their patient's health, and providing education on the use of Anti Retro Viral drugs (ARV).
A direct outcome of this work was the identification of orphaned and vulnerable children in the community – the center provides support services such as AIDS treatment, educational initiatives, social care, and art projects, using a holistic approach to fighting the impact problems of HIV/AIDS.
Working together to help more children
The project also provides shelter and food for vulnerable and orphaned children who do not have caregivers and the Keiskamma OVC Programme includes:
Support groups for adolescents on ARVs
Home support for young people
Camps for OVCs and HIV-positive children
A children's ARV clinic
A children's inpatient center where caregivers and children are educated about HIV
The partnership works by combating the stigma of AIDS.
Why this partnership works
It is essential that alongside the medical and support needs of AIDS victims, the stigma that follows the condition is also combated to prevent the cycle from continuing through the next generation. Through providing simple services to the beneficiaries, the most vulnerable are protected from the effects of stigma, the deep psychological scars prevented and a brighter future ensured.