Garbage to Games

Candice Behrens

Many rural areas do not have any preschool facilities in the area and children were going without stimulation during the crucial first 1000 days of life. One of the Starfish programs began teaching mothers how to stimulate their children from home. Many did not have money for toys so the program started showing caregivers how to use whatever they had around the house to teach their children.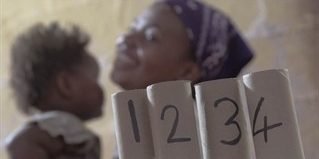 Early learning for toddlers at home
In rural areas with no early childhood development centers, there was a clear need for an innovative response. Careworkers at a Starfish program in KwaZulu Natal are running workshops for small groups of women in their own homes to create educational toys from recycling and teach them how to use the toys when playing with their children.
The care workers who rolled out the scheme are proud of how engaged the young caregivers were in the process and the difference it had made to the relationship between the caregivers and their children as well as the positive impact it has on their educational development.
Sarah took her daughter to such a workshop. "It put me in a situation where I could just focus on Lindali and our interaction together. In the class, they taught us to make toys from things we have lying around the house, even rubbish. In the beginning, Lindali was just holding the toys but then we were shown how we can teach our children the colors and how to put the lids inside the old yogurt container. I remember showing Lindali how to build and count at the same time. I was amazed at how quickly she learned."